First an apology;
As you probably noticed we missed last month's newsletter after years of a perfect record. In early August Josh, Andrea and family travelled to Toronto where Josh's oldest friend was getting married and had asked him to be his best man. Two weeks in Toronto with the kids, and they came back with COVID-19, which wiped out the rest of August. Then kids back to school, and well, here we are, a day late and a dollar short…
We Continue to See a Seller's Real Estate Market
But you aren't here to hear our tale. This is about the Victoria Real Estate Market. Interest rate hikes and uncertainty continue to drive sentiment in the Victoria real estate market however ongoing low inventory levels continue to keep us out of a buyer's market, and indeed, even out of a balanced market. The Sales-To-Active Listings ratio in August was 22%. Just north of the 20% threshold for a balanced market. Having said that the benchmark price for a home in the core area was down 2.9% to $1,391,700 from July's value of $1,433,400. Buyer's are coming back into the market now realizing they can get offers with conditions, a reasonable due diligence period and finally make a purchase. To many, including ourselves, this is a relief and a movement back to a better market.
We are also hearing buyers wanting to use the rates they have locked in for fear rates will continue to increase. All in all, a good time to be buying and yet still a reasonable time to be selling… a balanced market and a breath of fresh air.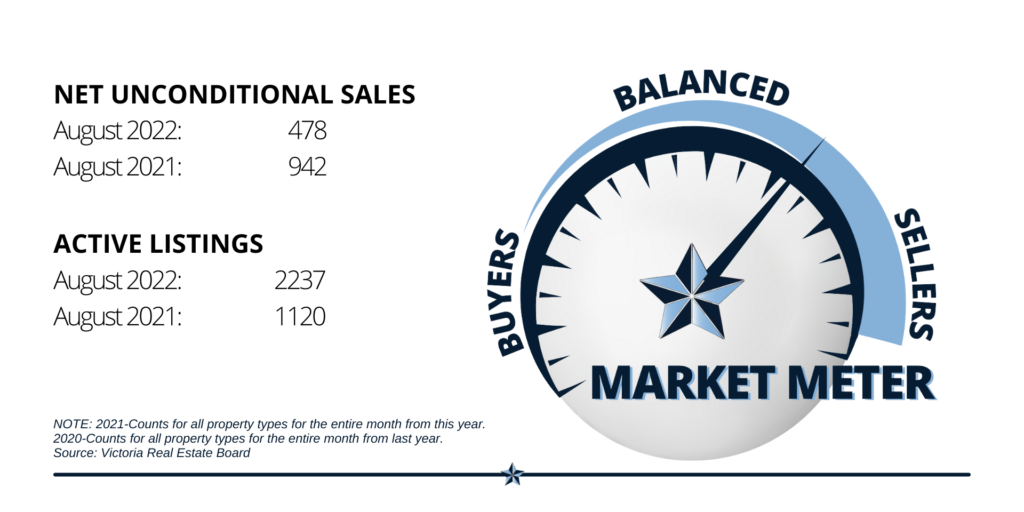 Stay up to date and sign up for our newsletter!