Summer is here!
"The month of May marks the highest number of sales we've seen since April of last year," said Victoria Real Estate Board Chair Graden Sol. "While we haven't seen the number of total sales we would expect in a spring market, the month of May marks the fourth consecutive month with sales higher than the month previous. With momentum building, there's an indication of consumer optimism in the market heading into June.
However, if the ongoing lack of homes for sale persists and inventory is not added, we risk a return to an overheated market with pressure on pricing." There were 2,189 active listings for sale on the Victoria Real Estate Board Multiple Listing Service® at the end of May 2023, an increase of 7.1 per cent compared to the previous month of April and a 23.3% increase from the 1,776 active listings for sale at the end of May 2022.
The average home price for a single family home in Greater Victoria in May was $1,304,225, town home was $853,470 and condominium was $674,732.
The Sales-to-Active Listings ratio is sitting at 35% and further into the sellers market then we have seen in the past few months.
"The return of consumer confidence we indicated last month appears to be staying strong," adds Sol. "The slight uptick in inventory means there is more selection, though of course on well-priced properties buyers need to come prepared to move at pace with the help of their REALTOR® to ensure they are well positioned in the current market."
June saw another interest rate increase of 25 basis points from the Bank of Canada as Canada's economy is proving to be stronger than expected.
If you are considering a move give us a call so we can discuss your specific situation and help you determine the best plan for you.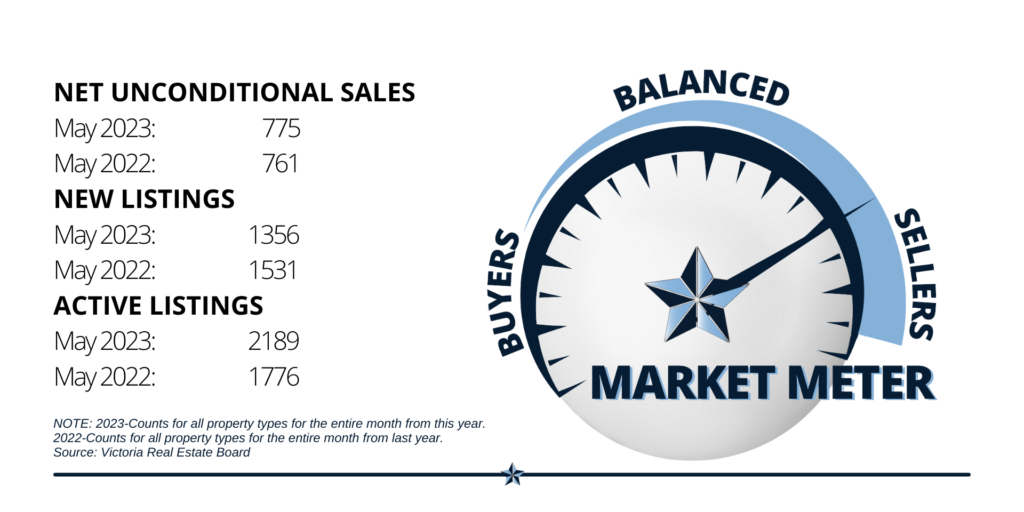 Sign up for our newsletter and stay up to date
Featured Listings