We are starting to feel a little like a broken record with the Real Estate situation in Victoria BC.
In November a mere total of 653 properties were sold. That is 17.9% fewer than the 795 properties sold this same month a year ago and just over 12% less than the previous month of October 2021.
The average price for a single family home in November was $1,330,251. The average price for a townhome was $807,289 and for a condominium was $648,867.
Of the total properties sold 276 were single family homes sales, 76 were townhome sales, and 236 were condominium sales. The sales-to-Active Listings ratio for November 2021 was 73.6% and we finished November with 887 Active Listings. That's over 50% fewer properties on the market than there was November 2020! Taking in these facts it is not surprising that there continues to be upward pressure on prices and competition with continued multiple offer situations.
The Governments announced their plan to introduce a cooling off period for resale homes instead of addressing the supply and attainability issues. We therefore do not foresee improvement to the supply and demand of our complex housing market as a result.
Victoria remains one of the most desired places to live in Canada which is no surprise to those of us already living here!
December is now upon us and we hope you have a peaceful holiday season with your family. Wishing you a prosperous 2022!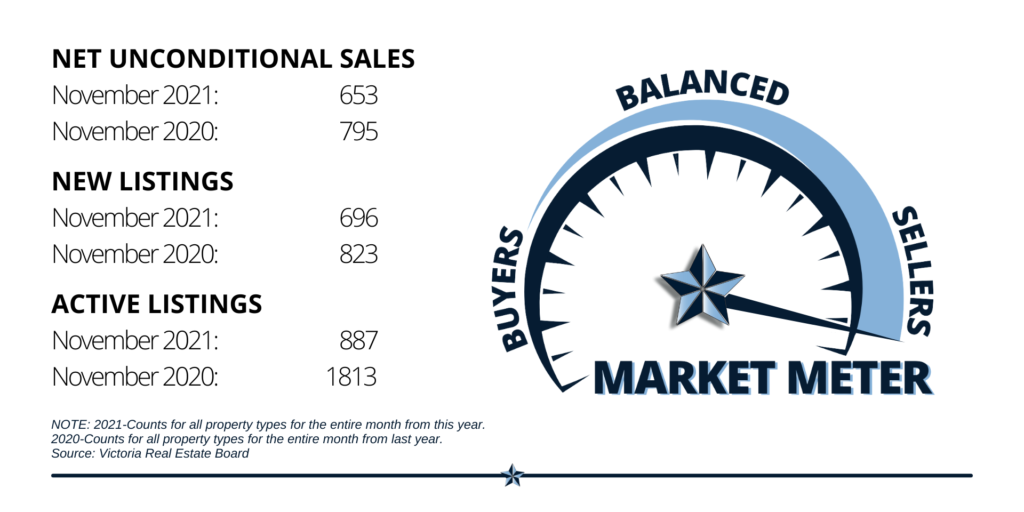 Victoria real estate market needs better mix of housing supply to help restore balance A total of 544 properties sold in the Victoria Real Estate Board region this August, 13.8 per cent more than the 478 properties sold in August 2022 and an 8.6 per cent decrease from July 2023. Sales of condominiums were up…
Summer is here! "The month of May marks the highest number of sales we've seen since April of last year," said Victoria Real Estate Board Chair Graden Sol. "While we haven't seen the number of total sales we would expect in a spring market, the month of May marks the fourth consecutive month with sales…
Good news makes for a buoyant market.  It looks like the turbulent and uncertain waters of inflation on our real estate market are behind us and it's back to confidence. The news has been positive on many fronts since my last newsletter. The Bank of Canada held rates for the second time in a row…
Continue Reading Real Estate Market Update for Victoria – April 2023