Is there change in the wind? As expected inflation is on the rise hitting levels not seen in decades. This is hardly surprising given the money printed to keep the economy from falling off a cliff during the pandemic combined with the supply chain issues we are all too familiar with. One of the leaders in inflationary pressure is the cost of housing. Many factors have contributed to this boom in housing, including the shortage caused by bottle-necked municipal development policies, a surge in employees working from home or remotely, (which is expected to stay and will have a profound effect on local economies -why wouldn't they move here given the chance?), and low unemployment numbers also not seen in decades. 
The increased housing costs and rising interest rates are likely to cool the housing market, although there is so much backed up demand it will likely take a while to see any significant plateau. If rates continue to climb we may see a price leveling.  
833 homes sold with 1063 active listings, a sales-to-active listings ratio of 78%. This is consistent with the sellers market we have seen and continues to put upward pressure on pricing. The provincial and federal government continue to drop election sound bites with "housing initiatives" which to date have proven ineffectual.
The Benchmark home price in the Victoria Core hit $1,233,700 last month, up year over year and month over month with this trend expected to continue. The average single family home in Victoria last month sold for $1,426,628.
If you want to discuss your options or receive neighbourhood pending and sold listings to keep an eye on the trends let us know, we're here to help. Drop us a line anytime!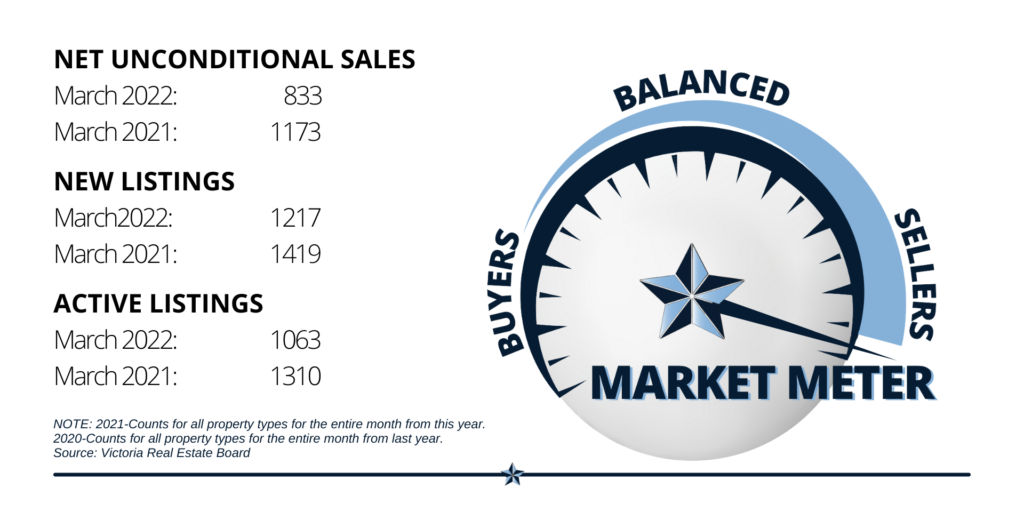 Sign Up for Our Monthly Newsletter
Other Recent Blog Posts:
More About Our Communities: